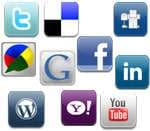 Last post, we learned about geotargeting and PPC; however, another way to make the most of geotargeting is with social media sites like Foursquare (it has more than 7 million users), Facebook (over 500 million users) and the multitude of others. After all, these sites have millions of users (read "potential customers") that visit their social media accounts on a regular basis. The use of geotargeting combined with social media is another prime way to help your business flourish.

The shining star of social media and geotargeting is Foursquare, although Facebook and Gowalla are no strangers to the practice. By using geotargeting, businesses are able to interact with a target audience through merging the elements of gaming with the marketing benefits of social networking. Here is how Foursquare works:
Foursquare uses "check-ins" to earn points and awards for its users; these check-ins are a location through a phone app, text messaging or mobile website. When a Foursquare user checks in, geotargeting works by displaying nearby locations as well as any friends who frequent the shop(s).
When Foursquare users check in, they can read or add information/suggestions for what to do while they are there. This may include restaurant reviews, special coupons to look for, or a variety of other important information.
The more one goes to a location, the more "badges" one earns. This accruement of badges can result in becoming "mayor" of a location (at least until someone with more badges comes along).
Using geotargeting allows the audience to spread the word about places to try, but makes it fun. Of course, the real winner is the place of business. Today's economy has created consumers who are not only looking for a place to have fun, but somewhere they can have a great time without breaking the bank. With this in mind, use the Foursquare tracking method combined with your geotargeting campaign then encourage customers to earn special offers with repeated visits or referrals. In their interest to earn the discount, they will be spreading the word about your company at the same time.
Of course, not every business is a brick and mortar location. If that is you, then perhaps you do not see how geotargeting can help. However, you can still build a larger customer base by using SEO practices, SEM and PPC. In addition, you can use sites like Yelp or Bing to establish a "Places" page. Your Places page can even include photos and videos of the products or services you offer. These "Places" pages allow you to build relationships with your customers so you will know how to market your services and make educated business decisions.
Geotargeting is one of the best "new" tools on the Web and can help you expand your business all around the globe simply by doing some basic R&D, then using your findings to create a successful campaign. So, whether you begin with a small geotargeting campaign or a large one, placing your ads where they will work best is a great way to promote your business. For more help in building your business-whether through geotargeting, link building, social media and other methods-contact Page Progressive. We will be glad to get you started.