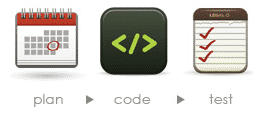 If you are looking for a great PHP Programmer in Raleigh, we can help! We offer custom PHP programming, utilizing MySQL databases so you can customize your web experience for users or your staff. We utilize several open-source applications written in PHP, but often we need to customize these applications to better meet the needs of our clients. Because we use standard web technologies you can be sure that you can host your web apps just about anywhere, so you can use the web host that your prefer!
We can also code a PHP project from the ground up to address the specific needs you may have. Some examples of what you can do with web-based applications are:
Create an inventory management system so your sales staff always has access to the most current information
Create a custom customer relation management system to track phone calls, emails, followups and more
Create a medical practice management system that is specific to your needs and compliant with EHR/EHM standards.
Track the status of projects your team is working on
Manage billing and other back office tasks
Manage and coordinate events, seminars and workshops
Create a customer login area for your website to review bills, payments, records and reports
And since it's web-based,your applications will run on ANY computer (as well as many phones and tablets) with an internet connection! Custom development means that your web application is designed with you specifically in mind. No more trying to make your business model fit into a prepackaged system that is over-priced and lacks many features that you need!
The capabilities are endless, and the cost may be less than you think!