It's that time of the year again where we find ourselves in the hustle and bustle of the holiday season. There's decorations to hang, shopping to do, and a million other things on our plate and it's easy to get overwhelmed by it all. I regret that I have to remind myself why we celebrate at this time of the year…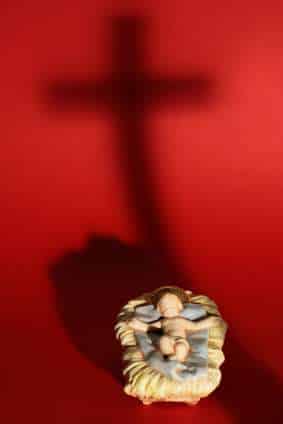 The story of
Christmas is about more than presents, and shepherds and wise men and a manger. While spending time with family and friends is one of my favorite aspects of this season, it's about more than even that.
We set aside December the 25th each year as a time to celebrate the birth of Jesus 2000 years ago in a little town called Bethlehem. Historically speaking, there has not been another person to walk on this Earth to have such a great impact on our world. Spiritually speaking, this little baby Jesus began his journey here on Earth
as God in the flesh – A journey that would lead the creator of the universe to a
cross in Calvary to pay an awful price and die, despite no wrongdoing of his own.
Here is how it is recorded in the Bible in Luke chapter 2, versus 1-11:
Now in those days a decree went out from Caesar Augustus, that a census be taken of all the inhabited earth. This was the first census taken while Quirinius was governor of Syria. And everyone was on his way to register for the census, each to his own city. Joseph
also went up from Galilee, from the city of Nazareth, to Judea, to the
city of David which is called Bethlehem, because he was of the house
and family of David, in order to register along with Mary, who was engaged to him, and was with child.

While they were there, the days were completed for her to give
birth. And
she gave birth to her firstborn son; and she wrapped Him in cloths, and
laid Him in a manger, because there was no room for them in the inn. In
the same region there were some shepherds staying out in the fields and
keeping watch over their flock by night. And
an angel of the Lord suddenly stood before them, and the glory of the
Lord shone around them; and they were terribly frightened. But the
angel said to them, "Do not be afraid; for behold, I bring you good
news of great joy which will be for all the people; for today in the
city of David there has been born for you a Savior, who is Christ the Lord.
This year, take a moment to contemplate what Christmas means for you.
This holiday is about celebrating the one gift that we
all were given. A gift that was free, but was not
without cost. An innocent man, God's one and only son, was put to
death as payment for the sins of the world. For your sin and for mine – so that we may not incur the punishment that we all rightly deserve. And that is certainly worthy of celebrating.
Merry Christmas, and may you be blessed during this holiday, and throughout 2010!