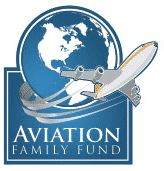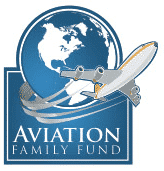 We often get asked to do custom website designs, create personalized logos, do updates or add graphics for an existing website. We love to do this, as it is a great way to give an "old" site a new look, while increasing the site's search engine ranking in the process. One example is Aviation Family Fund, for whom we improved a basic WordPress template by adding custom graphics and a logo that helps express who they are and what they do.
Aviation Family Fund
"So, what or who is AFF?" you might ask. Aviation Family Fund is a nonprofit organization created "to assist and support individuals who clearly desire sobriety, but are limited financially to get the help they truly deserve." As its name implies, they focus on helping those in the aviation field – pilots, flight attendants, mechanics, ground crew, etc.- conquer addictions like drugs and alcohol. These dependencies are costly from which to recover. However, these costs (beginning recovery, doctor visits, outpatient treatments, etc.) are not covered by insurance. At AFF, individuals are not given assistance "just because" but rather the monies are for those who truly want to follow a life of recovery. They will not turn away anyone who meets the criteria for receiving assistance. These monies are made available thanks to the generosity of others.
AFF was begun by a small group of people who are dedicated to seeing people from the aviation field overcome their substance addictions. They work hard to leverage their resources to help people recover. They have professionals who specialize in areas of addiction and treatment as well as in finance, insurance, law and media. The AFF is led by Dana and Marcia Archibald and Karyn Joy Riviera. These people have years of experience and are happy to help the people and their families affected by these addictions.
Page Progressive is happy to have been a part of this organization's marketing team. If you would like help with updating the look of your website, please be sure to contact us. We're here to help!