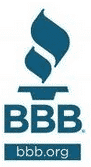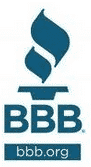 A symbol of trust—that's what being an accredited Better Business Bureau member means. Here at Page Progressive, we have been accredited BBB members since 2006. This is important to us, because we want people to know that when they hire us to do a job, they can rest assured we will treat them with all the respect they deserve, listen to what they have to say and deliver what we promise in a reasonable amount of time. 
Of course, a business that is not with the BBB is not necessarily untrustworthy, the BBB seal is merely a way to let others know what type of business you operate, thus making you more attractive than a business who is not an accredited BBB member. However, businesses listed with the BBB also receive other benefits. These accredited BBB benefits include, but are not limited, to:
A Plaque/certificate – Lets onsite guests know that you are trustworthy and an accredited BBB member.
A web link- You have an automatic link for your website, and while there is no significant proof that a BBB link builds Page Rank, having this link from a well-respected website certainly will not hurt!
Dispute resolution – In the event that there are complaints regarding your business, the BBB will help, when appropriate, with conciliation, mediation and arbitration.
Tax deduction – The expense involved for being an accredited Better Business Bureau member can be claimed as a business expense on your taxes.
As previously stated, perhaps the biggest boon the BBB offers your business is a seal of trustworthiness. But this seal is not something randomly given to anyone who wants to pay for accreditation. It is based on 8 principles that are part of the DNA of the BBB. Here are those 8 principles, or Standards of Trust, that all accredited BBB members must agree and adhere to, as stated on the BBB website.
Establish and maintain a positive track record in the marketplace.
Adhere to established standards of advertisement and selling.
Honestly represent products and services, including clear and adequate disclosures of all materials.
Openly identify the nature, location and ownership of the business and clearly disclose all policies, guarantees and procedures that bear on a customer's decision to buy.
Abide by all written agreements and verbal presentations.
Address marketplace disputes quickly, professionally and in good faith.
Protect any data collected against mishandling and fraud, collect personal information only as needed and respect the preferences of customers regarding the use of their information.
Approach all business dealings, marketplace transactions and commitments with integrity.
Each of these principles has several elements and further explanations, which can be found on the BBB website. But as you can see, the BBB seal is not something given out lightly. However, the trust this membership invokes can go a long way to building your business in your community. So, if you are looking for a way to bolster your business, then perhaps becoming an accredited BBB member is for you.