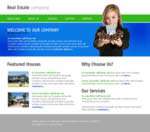 Location, location, location! This a perhaps the most well-known phrases in real estate, regardless of whether you are the buyer or the seller. This is because buyers will go from place to place looking for that perfect location for their home or business needs.
Today, however, the search for the perfect location can be easier, thanks to the Web. With just a few clicks of the mouse, buyers can find the locations they wish to see and, in many cases, sellers can list their property as well. This real estate location system is a huge time saver. Consequently, if you are a real estate agent, it is vital that you have a usable, findable website.
Must Haves for a Real Estate Website
So, how do go about designing a real estate website? Here are some basic elements that you want to be sure that your website contains.
A Responsive Design -This is a design that works on devices of any size, from the smart phone to a large PC monitor; this is accomplished through having a fluid grid and images that shrink or grown based on the device being used. Guests to your site should be able to easily tell what all the major sections and elements are, compare properties, scroll through pictures and schedule an appointment, no matter what device they are using.
Content– From the SEO (metadata, heading attributes and keyword usage) to your home listings, informative pictures and virtual tours, there are many elements that make your real estate website rank high with both potential buyers and with Google. Don't overlook them!
Usability – There is more to a website than how it looks. What is more important is how it works. Yes, having graphics and virtual touring options are important, but be sure that they are included so that load time is not affected. After all, if your website takes too long to load, then people will go elsewhere. Also, your website needs to be easy to navigate so people don't get frustrated trying to find the property they want.
Ease of Finding Information – Don't have obscure links so guests can't easily find the information for which they are looking. In fact, a poll performed by HubSpot.com found that more than 75% of respondents said that usability was the key to a successful website.
Company and Personal Information – People want to know with whom they are dealing. Have pictures of the real estate agents, your office and any other identifying elements so others know who you are. Make it easy for guests to contact you and schedule house viewings.
Ability to Track Guests – Do you know who visits your website? What about the search terms they used to find it? Is there a point/page at which they exit? These are all important questions to have the answers for. In designing a real estate website (or any other website), having an analytics program is a must. Here at Page Progressive, we can be sure that your website has this capability.
The Ability for Guests to Set up Accounts – You want to be able to follow up with site guests so have a form that allows them to note any preferences–contact info, price range, location, etc. Be sure your website offers guests the ability to leave contact info so you can touch base with them later.
Social Media Integration – Social media is one of the prime ways to connect with people online. If your company is not already on Facebook, Twitter, Linked and Pinterest, then now is the time to set up an account. Then, be sure these links are available on your site. These will provide you a plethora of opportunities to promote the properties you have listed. In addition, social media sites can help you get to know your clients even better so you have a better idea of the types of locations they desire.
Customized Property Search – Approximately 80% of property searches begin online. Be sure your real estate website has properties for as many types of buyers as possible. Consider using a tool that will create custom property searches highlighting criteria such as neighborhood, condominiums, closed sales, etc. One such tool is from IDX technology.
Footer/sidebar content elements – A great way to reinforce who you are and what you have to offer is by having a usable footer or sidebar. Elements that will add to this are testimonials, a Contact Us form, disclosure statements, expanded navigation links, e-mail sign-up forms and an About Us link.
Your real estate website is an extension of your company. You want it to be as friendly and inviting as you and the locations you are showing. If you are not sure about how to design a real estate website that will represent you, your properties and your clientele, then give Page Progressive a call. We will be glad to design a real estate website for you that shows off all you have to offer.