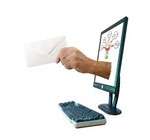 In our last post, we discussed the merits of using an autoresponder for e-mail marketing to help boost your sales. But, now that you know the benefits of using an autoresponder, how can you be sure that the campaign(s) you design will be acknowledged and read? Here are some tips for a good autoresponder campaign.
The best thing you can do is not to let the recipient feel like they are reading an autoresponder campaign. You want your campaign to sound like its coming from a person, not a program.
Add some personality to your messages—use humor, cartoons, embedded video links, etc.; do something that makes it personal.
Be sure the content is useful and relevant.
Always have the option for recipients to unsubscribe. Consider having a place for them to say "why" they unsubscribed so you can make adjustments, if needed.
Be sure your customers know that their information will never be sold or shared with other parties.
Don't abuse the ability to send frequent e-mails by inundating their inbox daily.
Use exciting, interest drawing headlines that encourages people to read the content.
Remind people of what you have, but without the pressure of a sales pitch.
Provide valuable content that helps build rapport.
Keep it simple! Your autoresponder campaign does not need in depth heavy sales pitches; save those for your website, landing page or blog.
Perhaps one the most vital element of your e-mail marketing campaign is the subject line. People don't have time to read every e-mail they receive, so most people will simply scan the subject lines and only read those that catch their attention. You want their attention and your subject line is the best way to entice them.
Get to the point, quickly! Don't beat around the bush dropping hint after hint about what is happening. Build some excitement, and then share the information and how your "announcement" will benefit the recipient. You can always send out more details later.
Don't forget the Call to Action! In fact, based on your responses to the CTA, you can then send an additional e-mail with more information.
Keep in mind that there is but a short span of time to turn a receiver of an email into a client. Use it wisely.
Don't overuse graphics! One or two are okay but after that, it can take too long to download and people will get impatient and move on to something else. You don't want your e-mail to be one of those passed over!
There are many ways you can use an autoresponder, so take some time to get set up with the program that best meets your needs. If you are not sure what program or format that might be, feel free to contact Page Progressive. We are happy to help!