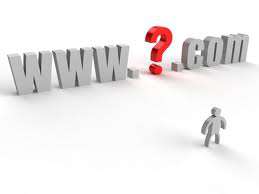 A Chinese proverb states, "The beginning of wisdom is to call things by their right names." Italians have another expression regarding names, "Who has a bad name is half hanged." When it comes to choosing a domain for your business, both of these statements can be right. After all, you want a domain name (or URL) that correctly identifies who you are as well as what you do. Anything less and your business is fighting an uphill hike on the road to success.
However, just as you are not likely to name your children by picking up a book, closing your eyes, and randomly placing your finger on the page,  you don't want select a domain name by chance. When selecting a business name, as well as a domain name, you want it to be something that tells people who you are and what you do. If choosing a domain name is on your "To Do" List, then there are a number of aspects to keep in mind. Here are some of the most vital:
When choosing a domain name, first take some time to search the Internet for the top keywords for your industry. Tools like Google Keywords are a big help. You can also get help at 

BustAName.com

.
Be unique, but do not choose something difficult to remember. Avoid misspelled or pluralized versions of your desired domain name so your site is not easily confused with another. Also, if you include "the" or "my" as part of your domain name, then be sure that you always refer to the site by its full name (e.g. thedomain.com not domain.com).
Choose one that is easy to type and remember. Keep in mind that an online user's attention span is very limited. Domain names that can be typed quickly are better. Domain names should be 67 characters or less; this includes numbers and hyphens. However, while keeping the domain name short is good, do not compromise the focus of your website; find a short URL that will establish who you are. Peter Prestipino, author of Web 360: The Fundamentals of Web Success, suggests writing down five potential and available domain names. Wait 24 hours and see which ones can be remembered the easiest and fastest.
Chose a domain name that helps you to set up a brand and separate your website from others in your industry. The best way to do this is by having a domain that includes your company name.
Getting Technical about Domain Names
As you begin considering your domain name, using the preceding criteria, chances are you have run into an assortment of questions. Don't worry, you are not alone. Here are five frequently asked questions regarding domain names:
What are TLDs? This stands for Top Level Domain. It refers to extensions such as .com (the most widely known), .org or .net; some web experts feel that you should not settle for anything other than the .com extension. Others believe that if you do have to use an alternate extension that you should always include the extension when verbally promoting your website so that the assumption of .com does not occur.
Besides having a TLD, what else is a vital feature of a domain name? Keywords (search phrases related to your business) are one of the most important SEO factors to get right for the ultimate site optimization. If possible, include keywords as part of the domain name.
Should I get a hyphenated name for my website? Many experts avoid hyphenated names, but depending on your situation, you may decide to use the hyphen.
Search engines can easily distinguish your keywords making your site domain more prominent in search results.
If the domain you want is taken, you may still be able to get your chosen URL, but with hyphens.
It is easy to leave out the hyphen when typing.
Verbal recommendations for your site are likely to leave out the hyphen.
If hyphens are not recommended, what about underscores (_)? These are not parsed; underscored domain names are searched for as one word.
Where do I look to get a domain name? If you have an established brand, chances are you do not want to change it. In these situations, you may simply want to buy the domain name (this can easily be a 5-digit price tag) from the current owner- who may or may not actually be using the domain. This is often referred to as "cybersquatting." To determine the ownership of the domain, look up the "whois" information. However, keep in mind that the current owner is likely to charge you a larger price, if they even agree to sell, than it would cost to just buy a new domain name. A good domain can be pricey, but it is often worth it if you feel it is the best option to convey your brand.
How much will a domain name cost annually? Typically, domains cost as little as $12 to $20 a year if the domain is available. In addition, you will need to renew your domain name every year unless you buy rights to the domain for an extended period of time. If you use a "Private" registration, which we recommend to keep you from getting spam or unwanted solicitations as well as protect your address if you work from home, then that will add an extra $6-10 a year.
How many words should a domain name have? The fewer words or abbreviations in a domain the better value it has.
How to Determine if a Domain Should be Purchased and for What Price
Once you have decided to establish yourself online, then it is vital you make wise decisions about your investment. Heather Lutze, author of The Findability Formula: The Easy Non-Technical Approach to Search Engine Marketing, gives the following tips for securing a domain name.
Check the search volume for the amount of exposure by using Google's External Key Tool. Be sure to note the keyword and related phrases, the global monthly search volume and the exact match searches.
Run a domain-appraisal report. Sites that provide this service-for a price- are 

sedo.com

, 

valuate.com

, 

estibot.com

and 

swiftappraisal.com

.
Make sure you are not violating any trademark issues. This can be checked at 

USPTO.com

or 

Domain Law

on sedo.com.
How much are you willing/able to spend? Consider these questions:
How many sales or leads will you need to make back your investment?
Can you afford the expenditure right now in cash without putting it on a credit card? If not, then don't do it.
Does the domain have resale value?

Will the domain make the user experience easier or more difficult? If there are multiple characters, dashes, underscores, etc. this may make it less appealing. A domain worth purchasing should be easy to type and remember.
Having a domain name that builds your business is a must. Select one that lets others know who you are. If, after testing the potential domain against each of these criteria you are pleased with the answers, then you are ready to take the plunge in the world of the Internet. Be sure to talk to the internet marketing pros at Page Progressive to get started on a website that is all you want and need it to be.