Being successful in today's world of business is much more involved than it once was. Gone are the days where business meetings, networking, TV/radio commercials, and sending out flyers were enough to grow a business. Today's businesses must also incorporate aspects such as PPC (pay-per-click) advertising campaigns, social media, SEO, and others in order to be found in web searches. 
And while most businesses of today recognize that these additional elements are necessary, many of them are stumped as to how to implement them within their marketing strategy, if they even have a marketing strategy. Some either ignore these strategies altogether, others hire someone younger with the assumption that they will know how to implement various new technologies or they reach out to a team of professionals to take on tasks such as social media management and marketing, PPC, web design, SEO, etc.
The DIY Approach to Internet Marketing
If you are a small to medium sized business, or perhaps just starting your own company, you may believe that the DIY approach is a great way to cut cost. After all, how hard can it be to make a few social media posts, write some verbiage for your website, and design your website with one of the many free platforms available? And, perhaps for some, it may be the ideal scenario.
For those who are considering the DIY approach, there are a number of things to keep in mind as you devise an internet marketing plan. Here are just a few of them:
SEO
Search Engine Optimization (SEO) is the cornerstone of your internet marketing approach. If you want to boost your company's web presence, get found on social media, create content for your website or online profile then understanding how SEO affects all of this. SEO is a multi-faceted tool that affects nearly everything you do on the web. Tactics such as the use of alt tags in your blog posts and pics, the use of keywords, having a website that is a responsive design, a quick loading website, and numerous other factors comprise SEO. Each of these tasks is important and has to be done often.
Social Media
Be sure to set up social media accounts on the 4 main platforms- Facebook, Twitter, LinkedIn, and Google My Business – being sure to add any and all pertinent information that tells a guest about your company and what you have to offer. However, setting up an account and actually being on the account are two different things. Anyone can set up accounts and fill in the information, but to actually have a social media presence, you have to post often- ideally daily- to these platforms. 

Keep your follower's interest by posting any special events, sales, local activities your company is involved with, links to your blogs, and any other information you think will be of interest to those who have followed you. Social media pages are also a great place to interact with your client base by answering questions and comments they leave on your page (ideally, the sooner you respond, the better!).
Also, when posting to your social media pages, be sure to use your company's keywords in your posts. For instance, if you are an interior decorator then you might include words such as 'interior decorator', 'home decorations', 'décor', and 'room designs' in your posts. Or, you can take it a step further and create a list of hashtags (#) that you use to help people find you online.
The hashtag is used for searching for any/all posts associated with a particular term. So, when #roomdesign is typed in a search bar, one is going to see the numerous posts where that hashtag has been used. Want to be more specific? Then include your location, the company name, or anything else that might help set you apart- just don't get too specific or that can work against you.
Blogging
This is a great way to reach out to customers and let them know a bit more about what you do, how you can help them, and keep them up to date with industry trends and changes. At the bare minimum, it is recommended that you post something to your company blog at least once a month just in order to maintain a web presence. However, in a perfect scenario, posting several times a month- one study found that posting 11 times a month was the best- then at least endeavor to make weekly posts of at least 600 words. If you can't get a weekly post of this length then aim for posting bi-weekly with blog posts of that length.  It should also be noted that longer blog posts- those with 1,000 to 1,500 words– do much better in search engine results than shorter posts.
Email Marketing
Email marketing is an extremely effective strategy and can result in a strong ROI. It is accomplished by first building a list of email addresses and contact details to help you personalize your messages. This information gathering can be done by creating a landing page where they can sign up for your newsletters, by posting a link to a signup page on your social media platforms, or the old-fashioned way- by having a sign-up sheet available at your brick and mortar location.
Once you have collected email addresses, you will want to take advantage of tools such as MailChimp, Constant Contact, or other email marketing tools. These tools will have templates and an assortment of other tools all geared towards helping you create the perfect newsletter, email marketing campaign, etc. for your company. In crafting your marketing email ensure that it contains information about sales, contests, community activities, and any other information you think your readers will be interested in. You can send out your marketing emails as often as you want, just be sure to keep it friendly, informative, and engaging. 
Whew! Handling the internet marketing can be quite the job! But don't worry, it is possible to do. ☺
Benefits of Hiring a Team to Do Your Internet Marketing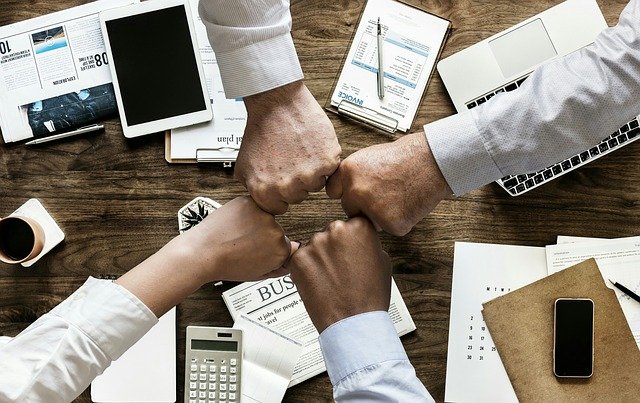 However, if you have read this much abbreviated list of things that internet marketing entails and wondered how you were going to get all of that done and still manage your business, don't despair! Fortunately, there is an alternative. In addition to the time factor, there are several other reasons to work with an internet marketing team. Here are 8 of them:
Relevance – As a business owner, you know the value of being up to date. Internet marketing is no different. There will always be trends, new tactics, strategies, algorithms, and other facets that need to be implemented in order for your internet marketing approach to be successful. Working with a team means that they will keep your marketing approach relevant and appealing to your followers and the needs of search engines.
Delegation – Running your own business often means you don't have time to make daily posts to social media, write marketing emails, focus on the sundry tasks of SEO, manage paid ad campaigns, or write weekly- or even monthly- blog posts. However, hiring an internet marketing team not only takes these tasks off your To Do lists, but that team will have people who specialize in each of these endeavors and they will be responsible for seeing those tasks are accomplished.
Cost-effective- While you may think that your budget doesn't allow for hiring an internet marketing team, think about it this way: If you had to hire an experienced ad campaign manager, a blog writer, a social media manager, and an SEO specialist it will cost significantly more (one site estimates that bringing on all of these specialists can cost

around $52,000 annually)

than paying one team to do all these tasks, and chances are they will be able to do more than that at a reasonable price!
Perspective – When you do all the marketing tasks yourself, it is easy to be too close to the product to see any mistakes or changes that need to be made. By having a team of internet marketers who understand your product, the vision for your company, and who your audience is you can get an "outsider's view' of how to improve your company and processes. This will help you be able to better focus on what your clients need and thus improve customer relations.
Research – Did you know an internet marketing team can help you with research? That's right, many teams include someone skilled at researching the latest trends, products, and strategies that others within a similar field are using and then that person determines how that information can be used to boost your company. These researchers will typically conduct research to identify-if you don't know who they are- your competition, discover industry relevant strategies, identify your target audience and determine their preferences then present you with ideas for campaigns designed to make you stand out from the rest.
Software – While actions such as social media and ad campaigns might not take any additional software, if you wish to create original graphics for your website or social media, track SEO results, perform A/B testing, and other marketing related tasks, then you will need to purchase additional software or pay memberships to have access to the tracking info. An internet marketing team will have these tools readily available, and at most you may pay a small fee to have your account added to their already existing tracking tools.
Turnover – It happens in every company. People leave, retire, go back to school, etc. and you suddenly find yourself needing to hire a new SEO person, social media guru, etc. which means time you can't focus on getting your product out there and connecting with more clients. By working with a team, you don't have to be concerned with that- it's on them to find someone to get things done.
Networking – Quite often, a marketing team will know of others in fields similar to yours that they can often leverage to everyone's benefit. This is especially true if you choose to work with a local marketing team (the ideal scenario). Networking such as this can mean things such as guests blog posts, connections with local media (radio, paper, television) more community visibility, and an overall boost with branding.
Internet marketing is something you must incorporate in order for your company to be truly successful – no matter who your audience is or how large your company. The real question is whether you opt to do it yourself or work with a team of pros who can take your marketing plan to the next level.
If you have questions regarding how to take your company's marketing strategy farther than ever before, then call Page Progressive today and learn how we can make your internet marketing approach the best it can be!