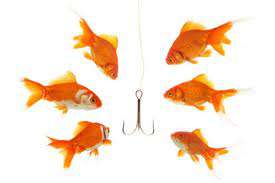 You've worked hard to build your business.  Your website is user-friendly and perhaps you even send out a monthly newsletter.  However, despite all this, you still need more people to know about your company. What else can you do to draw the consumer's attention? You need to use link bait!  Just as an angler uses tantalizing flies and spinners to lure "the big one" to his hook, today's web companies are using link bait to draw more customers their site.  "So what is link bait?" you ask. Good question.
Link bait is content that is created to naturally attract back links for your website by getting people to talk about the content, discuss it online in forums, blog about it, post it on del.icio.us and link to it from their sites.  It is done by writing fresh, qualitative, informative and enticing content.  The effective use link bait will result in more links and more guests to your website.  The components of good link bait are:
A captivating title
A well explained summary
Content that holds the reader's attention, so that they talk about it via blogging, tagging, sharing, e-mailing or bookmarking
According to Justilien Gaspard, a SEO consultant with over 8 years of experience, when it comes to a link bait campaign, you should be aware of these tactics:
Segmenting the work into steps and categories.  This will help increase turn-around time, lower the costs of training the writers and help people keep on track.  This also allows you to hire freelancers for parts of the project and allow your other workers to be available for different projects.
Keeping the sites on track by allowing one person to focus on finding sites to target where you can post your link bait pieces.
Ensuring a creative focus.  Find/place someone in your team to think outside the box, yet who has a good understanding of link bait's aspects.  Oftentimes, this is more easily accomplished by hiring from outside your company.
Repeating the process.  New link bait pieces should be produced often.  Like implementing SEO, link bait is not a one-time-and-you-are-finished activity.  You need to constantly be working on new link bait pieces so that you are relentlessly drawing attention to your site and what you offer.
Of course, just as there are aspects to be a part of link bait, there are things that you want to be very careful with as well.  These cautionary aspects of link baiting are:
Sending everything to all major social bookmarking sites is not necessarily a plus.  Rather be a bit fussy about which sites you submit to so that people will want to link to your site.
Overcomplicating things on one page makes it much too difficult to get links.  If your link bait article talks about flavors of ice cream, types of ice cream scoops and the best locations for homemade ice cream then the topic is too broad and makes it link unfriendly.  Picking a specific focus makes getting back links easier and more beneficial to all.
Be careful that you are not guilty of not promoting your link bait page.  An angler doesn't purchase the one of the best lures available and then just leave it in the tackle box. Be sure that you take the time to use SEO techniques plus social media to let others know what you have published.
Link bait is one of the most effective lures in your company's website tackle box.  And just as an angler makes sure to cast just the right bait to catch that beautiful rainbow trout, you have to consistently produce new link bait to draw the attention of the consumer. Can't come up with ideas for link bait? Below are 26 libnk bait ideas to get you started.
Link Bait Ideas from A to Z
A-Announce a contest or a drawing
B-Be the first to write about something new in your niche field
C-Controversial statements, whether about products or procedures within your field or merely an opinion of a current events, controversy-especially online- has a habit of drawing attention
D-Develop a new acronym for your niche and get people talking about it
E-Eye catching, attention grabbing headlines that make readers what to know more
F-Field guides-become an expert in your niche and write about it
G-Give away something valuable for free
H-How to articles: These are extremely popular; in fact, there are entire sites dedicated to "How To…"
I-Interviews with prominent people-especially if the interviewee is a part of your area of expertise.
J-Jokes about a well-known person or technology
K- Keep current!  Write about a well-known person.
L-Launch a competition: best/worst, oldest/youngest, etc…
M-Mind your manners. Mom always said to use your manners; remembering to thank your partners or competitors often results in their doing the same for you.
N-New tools and applications, in particular those just found on your site
O-Openly disagree with an authority in your field.
P-Pull in the crowd; get them involved.
Q-Quizzes and polls
R-Release a whitepaper.
S-Say something about Apple. 🙂
T-Try something that hasn't been done and report on it.
U-Unusual pictures or videos
V-Valuable resources/lists of pertinent information.
W-Write a popular theme, plug-in or software.
X-Expose a scam
Y-Your time is short; keep articles/videos short as most people have a limited attention span.
Z-Zip and zing; whether it is humor, anger, sadness, joy or any other heartfelt sentiment use emotion to grab and hold reader's attention then send them looking to you for more.