Content is king. Nothing new about that, is there? Also not new, is that many of us do not have the time to create new content. So, we farm it out within the office, hire a copywriter or perhaps, do nothing at all. But, what if there were another alternative to Web content? Enter curation via Scoop.it.
By Marc Roger's, one of the founders of Scoop.it, definition, curation on the Web is defined as selecting, editing and then sharing existing material. These shared ideas are often what spark inspiration. After all, there is no reason to recreate what has already been created. And should there be any concern about plagiarism or copyright issues, Scoop.it is careful to give credit where credit is due.
Not sure if article curation is for you? Ask yourself these questions.
Do I struggle to provide consistently fresh content for my followers?
Am I frequently looking for ways to build my audience?
Do I wish to establish myself as an authority on a topic?
Am I looking for a new way to share my post?
If you answered "yes" to any of these questions, then Scoop.it is just what you are looking for. It has everything you need for having great content for your website or blog. Plus, you can customize your Scoop.it account to suit what you need. So what are you waiting for? It's time to get started on your Scoop.it account. 
Getting Established on Scoop.it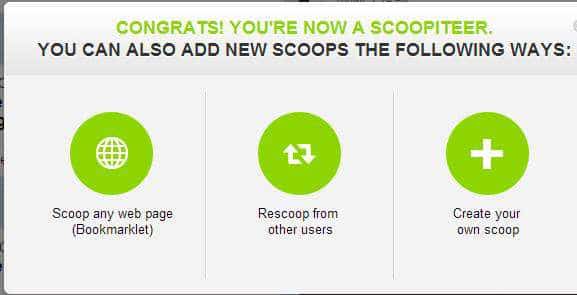 If you are new to Scoop.it, then you will first need to complete these seven steps, to make the most of the site.
Select a name, ideally one that reflects your social media goals. You will also want to include a profile picture or avatar and have a bio. The bio can have up to 225 characters and include hyperlinks. Scoop.it does ask you to link to your primary social media accounts; they will be posted below your picture.
Identify the topic area(s) you wish to publish or curate information about. Do this by listing three or four key words about a chosen topic in the system. This allows Scoop.it to review search engines, RSS feeds and APIs so that you can select what material you want to use.
Select the content you want for your page.
As the editor of your page, you can then add your own slant to the topic, through text editing, layout and several other options.
When the magazine is ready, you can share it and connect it to your assorted websites and social media pages.
It is then up to you to promote your Scoop.it channel.
Of course, building your Scoop.it site is more than curating material. You will want to entertain and engage your readers. This can be done by using these options from Scoop.it: Suggesting a related article; commenting on your curated posts; saying "Thank you" with a Like button; re-scooping a post; and, follow your magazine.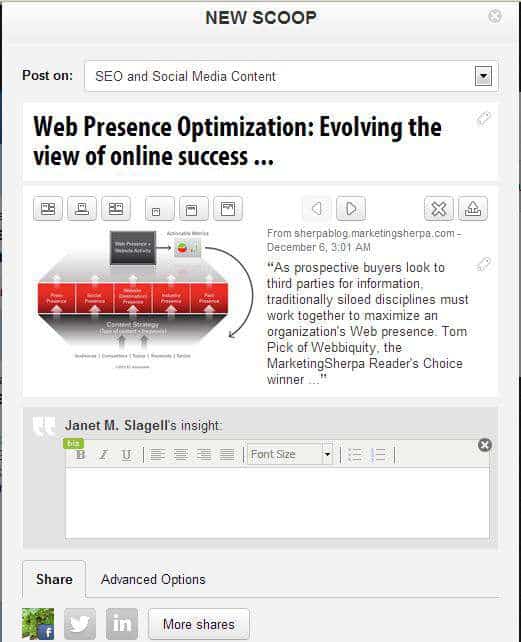 Although the San Francisco based company, Scoop.it is still relatively new to the Web, it should not be overlooked. In fact, in just a little over a year, Scoop.it is now averaging 5.5 million unique users per month. More impressive, is that this growth has been accomplished without the use of investing in traditional marketing, but rather it has made its mark through word of mouth and social media. Also of interest is that the majority of users are companies and professionals who use the site to provide content for their various Web platforms; it is especially helpful for businesses who can't afford to hire an advertising or communication agency.
And how much does it cost to use Scoop.it, you might ask. Now that is what makes it even nicer. Scoop.it offers three plans- the free plan which gives you the basics and allows one person to maintain the account, the Pro Plan ($12.99 a month) which provides analytics and the ability to delegate curation to other team members and the Business Plan ($79 a month) allows you to have a personalize URL, graphic charts customizable layout and completely customizable topics.
So, if you are looking for a unique way to provide content for your website or to simply get the word out about your business, consider Scoop.it. Let us know what you think or if you would like some suggestions for keywords. We look forward to hearing your comments.