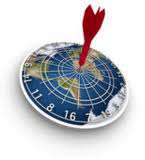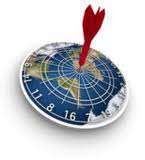 What steps are you taking to ensure the success of your business? Are you blogging? Have you started using social media sites like Facebook or LinkedIn? Perhaps you are doing these business-promoting activities and want to do something more. If so, then why not take advantage of geotargeting? Geotargeting is defined as the ability to target users by city, state, country and zip code. And, while for those who specialize in internet marketing geotargeting is nothing new, its potential is rapidly being seen by business owners in the areas of SEO, Social Media and Pay-per-click advertising.
Businesses using geotargeting can ensure they are found quickly by consumers doing web searches. How? If you own an Italian restaurant and it is listed on the web using geotargeting, when a consumer types in "city + Italian restaurant" a map will show up with area Italian restaurants marked, as well as an assortment of information.
According to MarketingProfessional.com, once you decide to use geotargeting, there are several steps and considerations you need to make. (Keep in mind that these steps are geared toward a PPC campaign; we will talk about geotargeting and social media later):
Decide which location(s) you wish to target
There are two primary ways to help you determine where to implement geotargeting. One method is to check out your competition and plan your counter approach and the other is to do an internal analysis by asking yourself the following:
Are your customers in a specific area?
Are some areas more customer-rich than others are?
Do your global campaign traffic results show some areas to be more popular than others are?
Is your business seasonal? For example, if you sell sunglasses they are likely more popular in the Pacific Northwest during the summer months but would sell year-round in Miami.
Are you doing your part by making sure that your website contains phrases such as "Miami sunglasses company" or "free coupons Raleigh"? Remember, geotargeting is more effective when SEO techniques are employed.
Decide the best channels (location, location, location)
If you already know where the best places are for your company to geotarget, then you are already a step ahead. But if not, here are a few places to consider.
People surfing the Web will click on banners such as those advertisements that come up on Facebook, Twitter, YouTube and others that are relevant; think about where your advertisement would have a lot of influence.
Is your target audience likely to use social network site(s)? Then perhaps you will want to focus there first.
Would your product/service appeal to instant messaging clients? Perhaps you could run an ad for your sporting goods store and target those people whose public Skype account list sports.
What kind of applications does your audience use?
Get creative
Once you have accomplished the first two steps, it is time to start your campaign. Here are a few things to keep in mind as you create your advertisement. Remember, you want your ad to appeal to your target audience:
Think about keywords or phrases that will draw their interest.
Consider using colloquialisms such as "y'all" or "trousers" (UK) rather than" pants."
Be consistent! Your wording, offer, advertisements, etc. should all be the same (except in situations where local language or slang would be better.)
Create campaigns per geotarget
Depending on your budget, you may have to start slowly but it is an investment worth making. Once you get started with PPC and geotargeting, start focusing on the following aspects:
Validate– This is the most important element in geotargeting. In order to geotarget well, then you must be able to identify with their life and activities. Along with this validation, you need to have a proxy network (those people who live in the target areas who help you keep in touch with and help you have a better understanding of the area's demographics and lifestyle) that is private and secure. You should also be sure your ads are deployed correctly. For instance, be sure that the currency, language (French, German, etc.), landmarks and other elements match the targeted region. A great tool for helping you with geotargeting validation is the GeoSurf Toolbar.
Test– The only way you can know if your geotargeting is working is to test them. Check the technical elements, creative aspects, etc. and see what is -or is not- working. You will want to set aside some time and money to do this important step. Once you have your geotargeting working as you want it, increase your budget and run with it.
Monitor– Just because your geotargeting campaign appears to be going well, it does not mean that you can file it under the "finished" column and forget about it. Rather, make it a point to monitor its success-or lack thereof. Failure to monitor can be costly. So, be sure you always monitor, test, retest and test again to be sure your geotargeting accomplishes what you desire. Don't be surprised if you find mistakes-especially at first. Just make adjustments so that your geotargeting network is user-friendly and flexible.
Keep in mind that if, despite doing everything suggested here for geotargeting, your business is not seeing the results you anticipated, it might have nothing to do with your lack of web savvy. Some types of businesses will not ever show up in the maps area of searching on Google even if you put in a geographical term. This is because about a year ago Google decided to not show local map results for certain genres of businesses that they felt were not area specific. Web design is one of those fields. So if you search for "pizza Raleigh" you get a map but probably not if you search for "web design Raleigh."
When geotargeting is combined with solid PPC, your profits can be great. Check in soon to learn how geotargeting works with social media so you can improve your business even more.